L'Ortolan's Annual Gala Day at Restaurant Reading
L'Ortolan's Annual Gala Day
---
Saturday 23rd December
Lunch and Dinner
Lunch £150pp
5 course Tasting Menu
Live entertainment
Dinner £189pp
8 course Tasting Menu
Live entertainment
L'Ortolan's Annual Gala Day is coming up and the team here are ready to welcome you.
It is our tradition to celebrate the end of the year with nothing but the finest ingredients, wines and company.
Head Chef James Greatorex and his team are bringing fresh imagination to traditional festive flavors. Bespoke tasting menus are available for this one day only and it is inclusive of breath taking cuisine, and a glass of champagne on arrival and high class live entertainment!
Join our team for a quintessential evening of fine dining with champagne on arrival and a sublime tasting menu.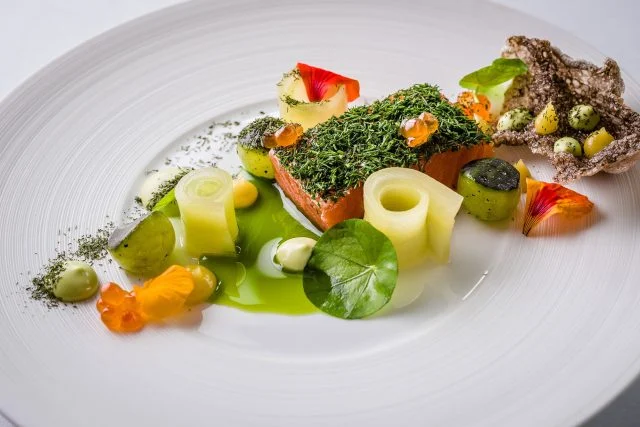 Gala Lunch Menu
5 Course Tasting Menu
£150pp
Festive Canapés
White Chocolate and Oscietra Caviar
Foie Gras Bauble
Cranberry, Sourdough
Spruce Smoked Salmon
Chestnut, Clementine
Five Bird Roast
Seasonal Birds, Roasted Vegetables
Christmas Pudding
Snowball
Lime, Advocaat
Christmas Cracker
Gala Dinner Menu
8 course Tasting Menu
£189pp
Festive Canapés
White Chocolate and Oscietra Caviar
Mince Pie
Hampshire Venison, Winter Truffle
Foie Gras Bauble
Cranberry, Sourdough
Spruce Smoked Salmon
Chestnut, Clementine
Five Bird Roast
Seasonal Birds, Roasted Vegetables
Chef's Cheese Course
Christmas Pudding
Snowball
Lime, Advocaat
Christmas Cracker