More About L'Ortolan Restaurant Reading
THE BAR & CONSERVATORY
---
Once you arrive in the charming village of Shinfield, as soon as you enter our 19th century brick-build listed rectory, you are given a choice – either to go straight into our tranquil dining room or proceed to our bar area for some aperitif.
Should your choice take you to our bar area, you will enter a darkened, elegant area where you can indulge yourself with a selection of premium drinks & cocktails from our selection and behold our lovely garden from the bright conservatory, at one of the best restaurants in Reading. The contrast in décor was tailored to accommodate various tastes of our guests, just like some prefer their red wine to white wine (and vice versa) we wanted to allow the choice of light and dark sitting. More about our cocktail bar and lounge.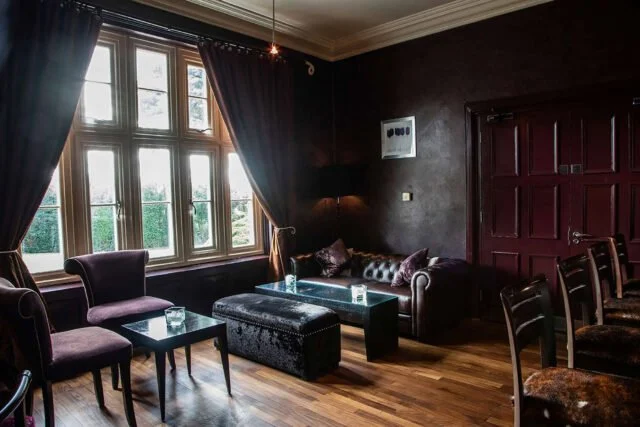 THE MAIN RESTAURANT
---
Once you have enjoyed your aperitif, you will be taken into our main dining area of the restaurant – a bright, carpeted room with eleven tables, which will allow you to enjoy every moment of your experience in a relaxed, elegant atmosphere that complements the award winning cuisine. Room itself decorated with the newest creations of well-known artists, such as Richard Rowan & Bob Barker. Every table representing the highest standard with its precise setting of hand-crafted glass plates, decorated with an imprint of leaves and branches from our Norwegian spruce tree which stood proudly as long as the building itself, neatly folded napkin and selection of glasses. View our selection of menus.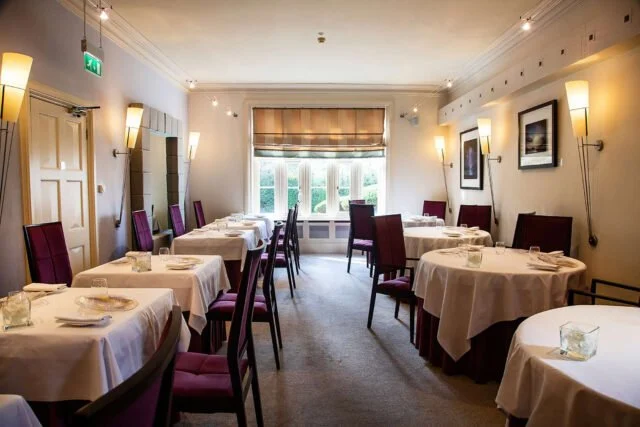 THE GLASS ROOM
---
There is no better place to enjoy a lunch on a sunny day than the conservatory extension of our main dining room – our spacious Glass Room. Truly comfortable, open room overlooking our charming grounds and the terrace, which happens to be another perfect place for an after-meal coffee or digestif. You will find six individual tables here, each of which will provide an unforgettable memory for a meal with your loved one, friends and family. The Glass Room at this restaurant in Reading can also be used for a family occasion or business meal for up to 22 guests if you are looking for a place to hold your private dining event.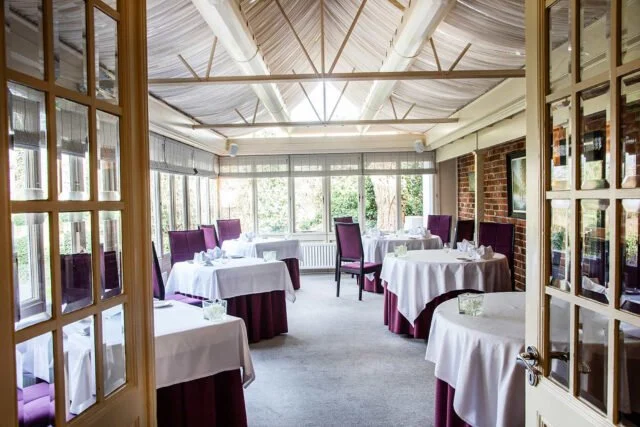 THE CHEF'S TABLE
---
For those more adventurous we wish to present our Chef's Table, situated right in the very heart of L'Ortolan. Join us as we take your dining experience to another level, while seated right opposite the hot pass, where every single hot dish is being prepared, tasted, put together and finally served to you, your guests and all of our diners in the main dining room. You will be served by chefs, each representing different section of the kitchen, who will talk you through the process of preparation, plating and the delicious finale presented in front of you. Our team of Sommeliers are always happy to enhance your experience even further by providing you with carefully selected wines which will compliment each course.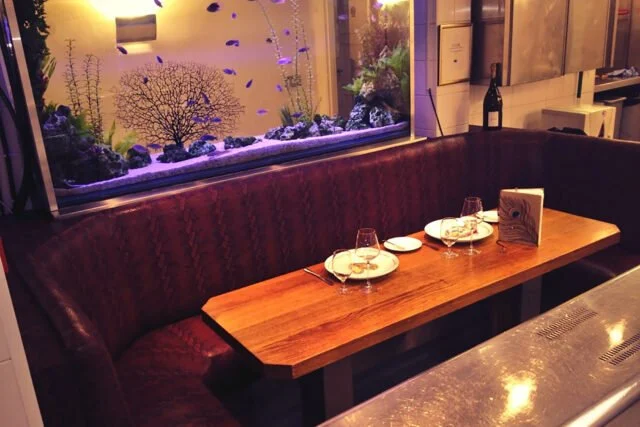 THE DEMONSTRATION STUDIO
---
We also provide a variety of personalised cookery experiences which would take place in our Demo Studio, situated on the first floor. It is here where our Cookery Masterclasses and The Kitchen Table experience take place. During the first one, our talented Chef in Reading will talk you through in details about variety of cooking techniques and methods of preparation, depending on the theme – from the proper way of cooking orzo, preparing scallops to the perfect soufflé recipe. The latter experience is for those who wish to enjoy a quitter, secluded version of the Chef's Table, accompanied by your friends and being looked after by one of our top restaurant Chefs.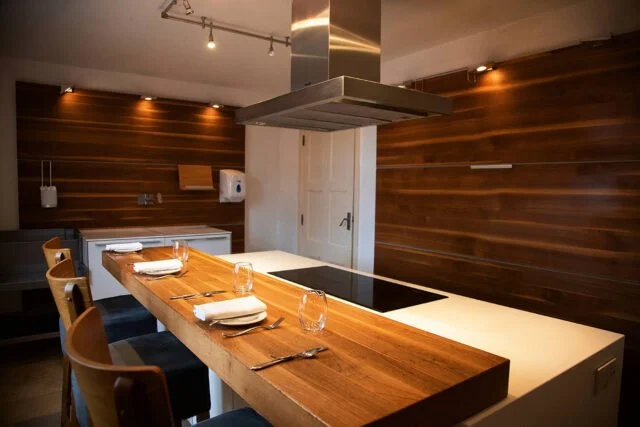 THE CHAMPAGNE ROOM
---
The smallest, yet the brightest of our private dining rooms – the Champagne Room. Gleaming, invigorating and bubbly, just like King of Drinks itself – situated on the first floor of the restaurant, where you and up to 11 guests will be looked after by a member of our Front of House Team, as you indulge in a meal in glamorous French-style surroundings, brought to us by our friends from various Champagne houses from Reims, Champagne.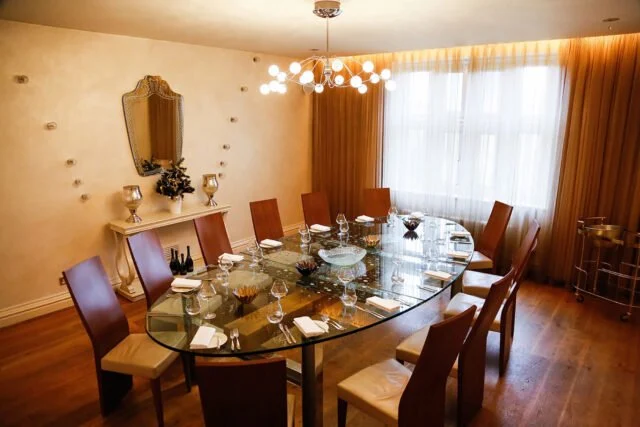 THE WINE CELLAR
Decorated with a palate of colours taken straight from Bordeaux – dark, deep red, with ornamented mirror and collection of wine bottles from Frank Cornellisen's own collection. The name of the room comes from the historical fact – that over 10 years ago the room used to serve us as an actual wine cellar (as the room we use as our wine cellar today, was used by a professional chocolatier back then). Stunning, romantic room where we can accommodate private parties for up to 16 guests, perfect for an evening meal, as well as brilliant for an afternoon of indulgence. More details read about Private Dining at L'Ortolan.